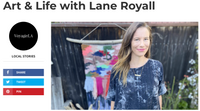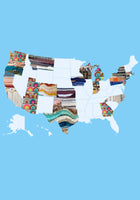 Help me fill the map!
Sending Bob + Weave love all over the map is a thrill and an honor! While I'm not sure where all my store sales end up, I've been able to track my online sales. We have landed in 21 states, Berlin, and one sailboat around the world. Help me spread the love!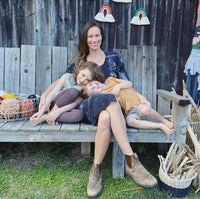 MEET THE HANDS BEHIND BOB + WEAVE...
Lane Royall fell in love with fiber art in 2016 after a trip to the central coast of California. It started with collecting an insane amount of driftwood, and then making a few simple wall hangings for friends and family. It soon became the creative outlet she had been yearning for since becoming a stay at home mom. Weaving became her meditation. Lane's fiber art journey has evolved and grown over the years. She makes handwoven pieces on a variety of looms. She made her first fiber rainbow wall charm in 2018, and a new love of fiber wrapping was born. She has also dabbled in fiber jewelry, embroidery, knitting and sashiko. She draws her inspiration from nature, music, math, texture, travel, color, photos, California and other art forms. Lane has a MA in math education from the University of Colorado and taught math and coached tennis for 7 years before becoming a stay at home mom. Lane lives in Venice, California with her husband and two children.